After putting in a respectable 13-hour day, I finally flipped off the light switch in my office at 8 p.m. and headed home. I'm officially on vacation. Tomorrow is reserved for last-minute planning and packing, then we take to the friendly skies Thursday morning. But before I scoot out, here's one more edition of Tuesday Treats Under $20 to tide you over: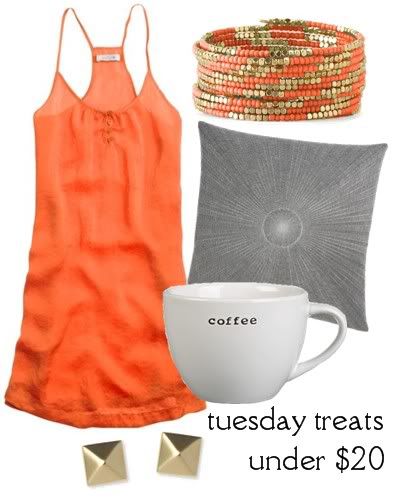 (pictured clockwise, starting from upper left)
American Eagle,
Silky Slip Dress
, $19.95
(on sale)
Cara Accessories, Beaded Coil Bracelet, $18.90

(on sale)
CB2,
Charlotte Pillow
, $19.95
(on sale)
Crate and Barrel,
Coffee Mug
, $5.95
Nordstrom, Small Pyramid Stud Earrings, $18
Tomorrow:
Look forward to the premier of our guest series as fellow bloggers share their top five summer essentials for 2010!
I'll see you again on July 6!
p.s. Thank you
Bren
and
Carrie
for tagging me on your posts. I'm eager to work on these when I come back from California!