If you're anything like me, I'm sure you thought that light-up shoes were only marketed to two very different clientele: teeny sneakers for those who frequent the playground, and lucite platforms for those who frequent the stripper pole.
And that's where we were wrong.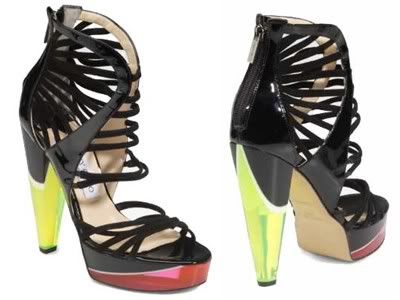 Both
Jimmy Choo
and
Nicholas Kirkwood for Rodarte
have created grownup variations of the novelty footwear. The Jimmy Choo version (above) comes with a price tag of $2,495 - and a glorified glow stick attached the heel.
While I won't exactly call the Rodarte pair "understated," they
are
considerably less garish than the Choo pair. I'm intrigued.
Tell me, would you wear light-up footwear? Or should we leave this trend to the wee ones?