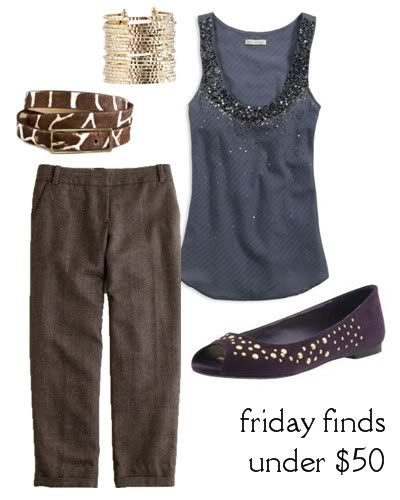 (pictured clockwise, starting from upper left)
Forever21,
Crinkle Textured Cuff
, $6.80
American Eagle,
Sequin Embellished Tank
, $39.50
Chinese Laundry,
"Makers" Flat
, $24.97
(on sale)
J.Crew,
Wool Twill Club Pant
, $39.99
(on sale)
The Limited,
Zebra Skinny Belt
, $24.50
p.s.
I'm glad the
Friday Finds
posts have such a positive reaction - it keeps me excited about them when the idea of searching for lust-worthy pieces under $50 seems daunting! Give the people what they want, I say!


What other types of posts do you want to see?
Anything you want to see more often?