I've unceremoniously made my way through four bags of conversation hearts. (And with two more weeks until Valentine's Day, I guarantee that another bag will meet its demise.) As an added bonus, the hearts have become real conversation fodder for my coworker and I as we form sentences with the candies. He came up with my favorite:
"Call Me - Love Bug - Wink Wink"
a.k.a. a cute way to tell someone you have an STD
Love bugs aside, conversation hearts always get me in the mood for the pink-hued glory of Valentine's Day. I hope for a delivered bouquet of flowers to make my coworkers jealous. I yearn for a candlelit dinner that I didn't have to make. Even a heart-shaped box of chocolates makes me swoon (expanding waistline be damned!).
But even us romantic traditionalists wish for something special on Valentine's Day. If your loved one needs a little help this year, here are my picks for holiday-appropriate gifts you'll appreciate throughout the year. Go ahead, "forget" to close this window when you leave the computer - blatant hints work.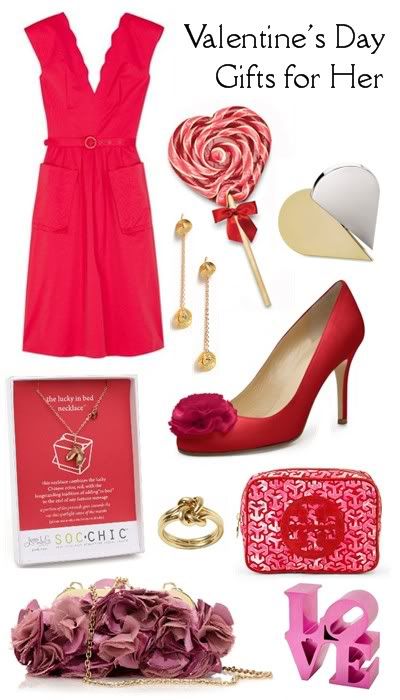 (pictured clockwise, starting from upper left)
Tracy Reese,
Scalloped-Trim Dress
, $155
(on sale)
Gorjana,
Petal Drop Earrings
, $65
Chasing Fireflies,
Giant Heart Lollipop
, $24
François Dallegret,
Art Breaker Paperweight, $65
Kate Spade, Kellis Pump, $285
Tory Burch, Valentine's Day Cosmetic Case, $75
Museumize, Love Paperweight, $68
J.Crew, Flutter-Flower Clutch, $128
Banana Republic, Promise Knot Ring, $25
Jess L.C., Lucky in Bed Necklace, $40