Tips on the perfect wardrobe basics litter magazines each month. While I won't deny the power of the quintessential little black dress, what about the pieces that add something special - that little
je ne
sais quoi
? Here are five essential extras that are sure to add oomph to your closet - and become just as well-loved as your go-to basics.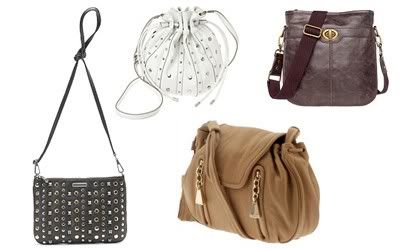 01. Hands-Free Bag

I know many of you rely on a bevvy of bags to get through the week. The workhorse tote trucks to the office with you, with your high heels in tow; a spangled clutch is more reliable on a night out than your relationship with wine. Trust me, I understand. But I'm still going to recommend one bag you should rely on more than any other: the crossbody bag. Nothing, I swear,
nothing
will make you enjoy shopping more than having both hands free to snag the last pair of Choos in your size.
pictured above, left to right:
Rebecca Minkoff Linear Studded Leather Rocker Crossbody Bag ($295); Nine West Drawstring Bar Crossbody ($69); See by Chloe Cherry Small Crossbody ($435); Poppie Jones Fashion Crossbody Bag ($19.95)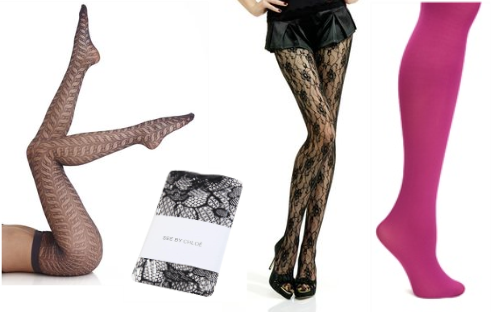 02. Stockings

There's a reason we've seen chic legwear worn on nearly every runway and by each influential blogger: it's the easiest - and most cost-effective way - to transform an outfit. Even your standby essentials take on an entirely different personality depending on which tights you choose. Fleshtone fishnets add subtle sexual overtones. Quirky touches are perfected with fire engine red tights. Or you can be staggeringly sophisticated with opaque black hosiery. In short: accumulate as many different colors and patterns that your closet can bear.
pictured above, left to right:

Jonathan Aston Feathered Rumi Tights ($20); See by Chloe Lace Tights ($85); Jonathan Aston Vintage Sweet Roses Tights ($21.50); Hue Opaque Tights ($12.50)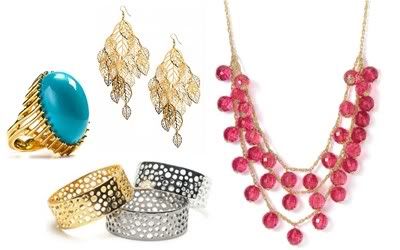 03. Statement

Something
Choose a statement bauble that shows off one (or more!) of your favorite features. Do you prize your hands for their ability to transcribe your thoughts? If so, choose a bold cocktail ring. Does your slender neck and collarbones make you feel particularly feminine? Don't cover them up - pull attention upward with a pair of dangling earrings. Love your cleavage? What better way to adorn your upper half than by draping a necklace around your neck? And jewelry isn't the only statement you can make. If you favor your hourglass figure, lean toward a staggering belt that cinches your outfit, accentuating your curves.
pictured above, left to right:
Trina Turk Cabochon Ring ($66); Amrita Singh Jewelry Bonbel Bangle ($75); Torrid Gold Leaf Cutout Earrings ($12); Kate Spade Gumdrop Necklace ($82.90 - on sale)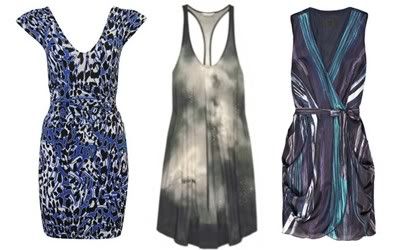 04. Printed Frock
It's easy to be a wallflower in basics; sometimes your little black dress simply isn't going to stand out in a sea of noir-adorned women. Infuse both your closet and your mood with a printed frock. There's sure to be a pattern to suit your sartorial personality: a romantic floral, an arty brushstroke, or a modern graphic print. If you're not keen on dresses, try a printed blouse. It'll perk up your work wardrobe, leaving your tired grey turtleneck in the dust.
pictured above, left to right:
Forever21 Ruched Pattern Dress ($24.80); Sass & Bide Midnight Runners Printed Tank Dress ($170); Anna Sui Silk Wrap Dress ($455)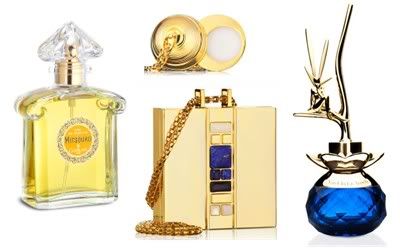 05. Lingering Fragrance
A spritz of perfume completes your signature style - or transforms your persona. Instead of limiting yourself to one preferred spritz, try creating a scent wardrobe. Follow your nose to a clean, crisp scent for daytime; a flirty floral for winking at gentlemen; a sophisticated perfume in a designer bottle for special occasions. I prefer to spritz at the nape of my neck - it's an intimate statement discovered only by those who lean in close.
pictured above, left to right:

Guerlain Mitsouko ($118); Estee Lauder Bronze Goddess Perfume Solid ($75); Estee Lauder Private Collection Jasmine White Moss Solid Perfume ($195); Van Cleef & Arpels Feerie Pure Perfume ($250)