Few things are as daunting as packing for a vacation. Sure, there's a sense of romanticism in assembling a well-edited capsule wardrobe for the trip, but the thought of forgetting an essential item sends this gal into fits of panic. Here's a selection of my must-haves: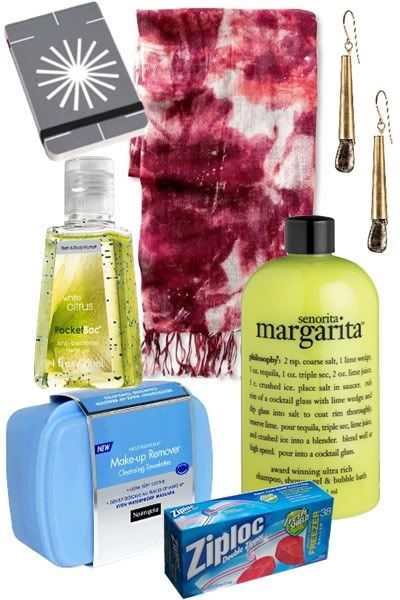 (pictured clockwise, starting from upper left)
Small Notebook:
I rely on a notepad more than any other travel essential. I jot down sightseeing destinations, phone numbers for hotels and airlines, the names of restaurants and stores we visit and don't want to forget. When boredom hits, it's a prime place to challenge each other to tic-tac-toe.
Scarf:
I'm not a huge fan of scarves when the mercury rises, but with a chilly plane - and a subsequent road trip with a boyfriend who has a penchant for subzero air conditioning - a scarf doubles as a lightweight blanket to fend off goosebumps.
Statement Jewelry:
The thought of losing a beloved jewel on vacation strikes indescribable fear in me. I've made it a personal rule to bring only one piece of statement jewelry to wear daily: a piece that transitions seamlessly from day to night and won't leave me in tears if it goes missing.
Philosophy 3-in-1 Shower Gel:
Tiny bars of hotel soap are the least luxurious part of traveling and leave you itching (sometimes literally) for a skin-friendly option. Pamper yourself with a bottle of Philosophy's 3-in-1 shower gel with a vacation-infused scent like lime margarita. Better yet, it doubles as shampoo, eliminating the need to pack yet another bottle.
Ziploc Bags:
No matter where I am, I always find a use for Ziploc bags. Use them to pack toiletries, keeping spills contained. Take one with you to the beach to collect seashells - and prevent sand from infiltrating the rest of your luggage. Pack not-quite-dry swimsuits and towels. And if you pick up any small souvenirs, Ziploc bags are a great way to keep tabs on them.
Cleansing Cloths:
Each time I can avoid a potentially leaky bottle, I take advantage of it. Cleansing towelettes travel well and effectively remove the day's makeup - even waterproof mascara. I always keep a box of these tucked into my suitcase.
Antibacterial Hand Gel:
There are no guarantees that public restrooms will be well-stocked with soap. Be proactive and bring along your own bottle of antibacterial hand gel to keep germs at bay.
What are your travel essentials?