In today's Summer Essentials post, Melanie of The Iconic Blog shares her top five selections for summer 2010.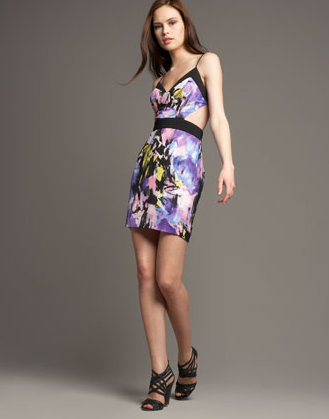 Essential #1:
A darling summer dress.
I am all for loose comfy maxi dresses for day, but I like to have something a little sassier to throw on for evening. After a long day lounging at the beach, I am always in the mood to get all dolled up. I love that this dress has some great cutouts to show off that perfected summer glow.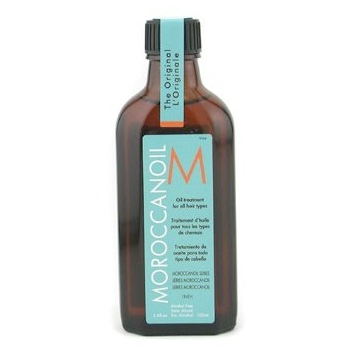 Essential #2:
Moroccan hair oil.
Run this magical serum through your hair right after you get out of the shower for natural frizz-free waves (no blow drying needed). For all out shine, blow dry after and then add a few drops just to your ends. This fantastic product gives you the option to be as low maintenance as your please, but ensures that you will have a fantastic hair day.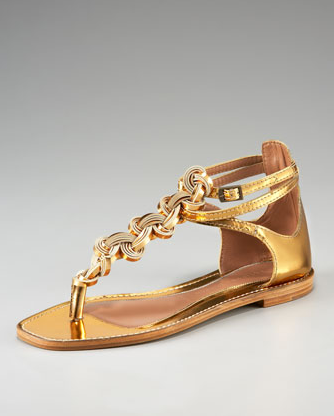 Essential #3:
Gold sandals.
I love my heels and wedges as much as the next girl, but I need a glam pair of sandals like these each summer. Flat, because I want to be able to navigate farmers' markets and cobblestone streets. Gold, because I want them to look just as fab with cut-off shorts as with a black jumpsuit for a poolside soirée.
Essential #4:
Dita Sunglasses.
Aviators are hot. They are also
everywhere
. I want to stand out from the crowd a bit, and not be wearing the exact same sunglasses as all of my friends in our photographs. Dita sunglasses are versatile, but different enough for you to maintain your individuality. I love that this "sunbeam" style perfectly marries the thin frames of an aviator with the large lenses of a bolder Hollywood style.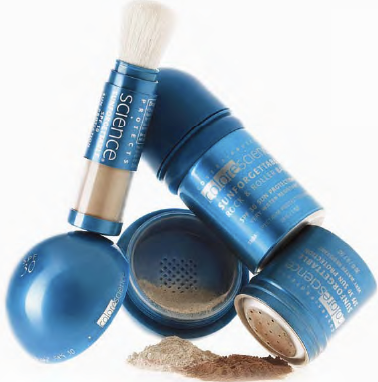 Essential #5:
Colorescience mineral sunscreen.
This stuff is amazing. I cannot stand sunscreen that is not in powder form - regardless of whether or not if it is oil free. It always makes all of my makeup slide off and permanently smears on my sunglasses. I hate ruining great beach photos with a ridiculously shiny face. This powder is not only discreet it is incredibly effective. It is waterproof and lasts all day! It evens comes in tinted shades so you can use it as a bronzer or wear it alone for slight coverage.
Wishing you all a summer filled with sun, sand and style.
Thank you, Melanie! The cutouts on the dress are perfect for a sultry summer evening!