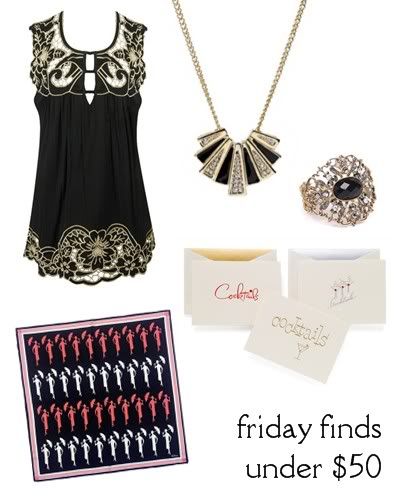 (pictured clockwise, starting from upper left)
Forever21,
Floral Embroidered Knit Top, $22.80
ASOS, Vintage-Style Fan Necklace,
$13.60
ASOS,
Statement Stretch Bracele
t
, $25.50
Kate Spade,
Vintage Cocktail Invitations
, $25*
Echo Design,
Debbie Downpour Scarf
, $27
(on sale)
**
*Please invite me to any party these are used for. It's guaranteed to be a smashing success!
**
Echo Design
is an incredible resource for
scarves
in interesting prints at reasonable price points. I've added the
Colorblocked Feathers Scarf
to my wish list.