I'm finally back in Madison after spending a week at my parents' house - with plenty of holiday cheer, and without high-speed Internet. I stared wistfully at the computer screen on Wednesday, not-so-patiently waiting for Gilt's final sale items to download. My efforts were futile, however, when the computer's slow speed let an Elizabeth & James plaid blazer slip away and a Foley + Corinna dress find a home elsewhere.
Needless to say, I'm thrilled to be back in my apartment, catching up on each of your blogs. Google Reader indicates I have 603 entries to read, so forgive me if it takes awhile! I didn't realize how much I'd miss seeing what you're up to - and how much I'd miss my own blog.
And without further ado, the quintessential first post of 2010:
New Year's Resolutions
.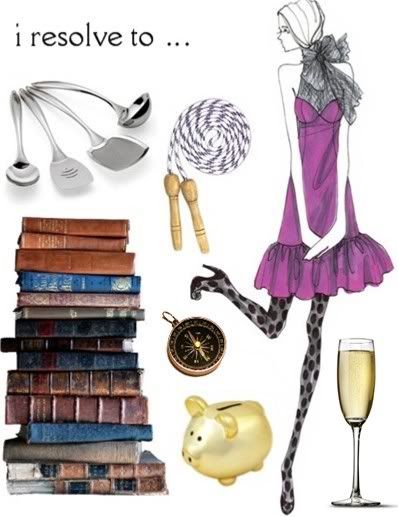 Read

at least one book each month, or 1,000 pages monthly.

Shop often. Spend rarely.

Focus on "quality over quantity" in terms of both fantastically unique and well-made items. And while I'm at it, put more hard-earned dollars into savings.


Sweat at least once a week.

The workout isn't fun, but the shower afterward feels amazing!

Experiment with new recipes

- I don't get Martha Stewart's magazine for nothing!

Set out on a road trip

with my trusty GPS and less-trusty Honda Civic. Destination to be determined.

Keep a bottle of champagne chilled

in the fridge for impromptu celebrations.

photos via Charleston Style Concierge, Chocosho, FitSugar, FoBo, Cuisipro, Weekends in Paradelle, Bigger than Your Head