"Furlough" is such a dirty, dirty word. And unfortunately it's one that many of us have had to come to terms with during the economic downfall. Most of these pay cuts don't affect the crucial line items in our budgets - but it sure wrecks havoc on our discretionary spending!
So, I challenged myself. If I had only one crisp $100 bill to spend on clothing for the month, could I create an outfit that I would actually
want
to wear? The answer is a resounding "Yes!" But there's one caveat: tight purse strings mean taking much more time to research potential purchases than working with an unlimited budget.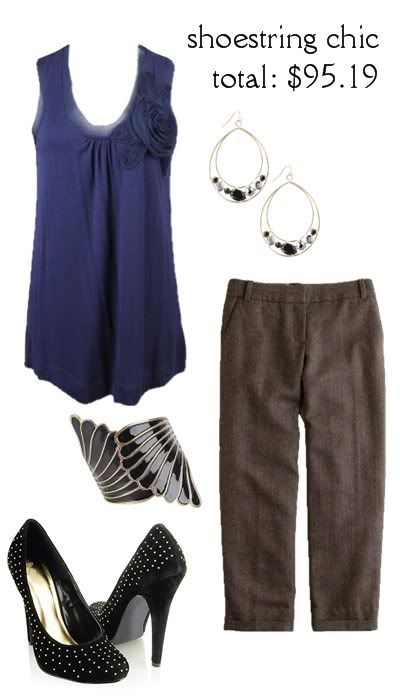 (pictured clockwise, starting from upper left)
Forever21,
Whispy Rosette Top, $17.80
Forever21,
Double Hoop Rhinestone Earrings, $5.80
J.Crew,
Wool Twill Club Pant
, $39.99
Forever21,
Studded Velvet Pump
, $25.80
Forever21,
Lacquer Wing Cuff Bracelet, $5.80
Total: $95.19
Just enough money leftover for a Starbucks run.
Don't forget to
enter to win
a glitzy little ring from Forever21!