When Juicy Couture first came into popularity, I swore that I would never buy anything from a brand that splashed its name across the tushes of American college girls. (I normally don't have such a mightier-than-thou approach to fashion, but this trend irked me.) I've noticed positive changes in Juicy's line over the last few seasons and I'm relieved to see even more lust-worthy items.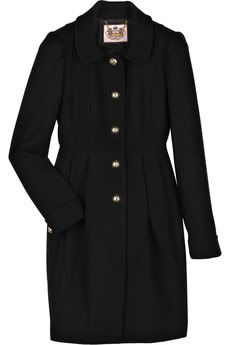 Michelle Wool-Blend Coat
, $400
Queen Anne Watch
, $295
Pav
é
Crystal Stud Earrings
, $48
Is there a brand you previously shunned, but are now starting to warm up to?