I apologize for being such a lame blogger this week. I've been busy with networking functions and social gatherings that left me a little exhausted and a little hungover - and there's a good chance that holiday parties will leave me sluggish for much of December. Fortunately, even a holiday hangover can be a little glamorous.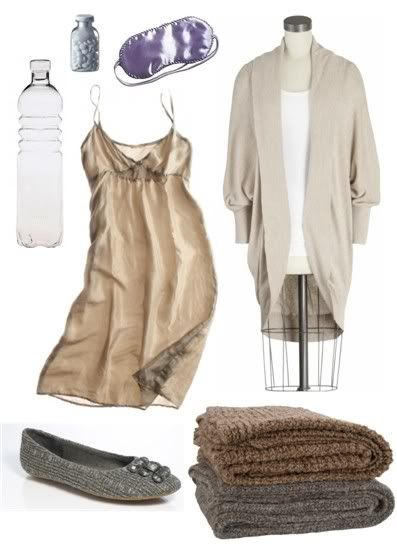 Choose loose garments in calm colors, like this
silk slip
and
oversize cardigan
, and give your tired feet a rest in a pair of chic
cable knit slippers
. When you're ready for a nap, block out the morning sun with a
satin sleeping mask
and cozy up with a
plush throw
. Use an
eco-friendly glass water bottle
to wash down a few pain killers. Once your stomach has begun to settle, order a pizza or head to the nearest Arby's for my favorite hangover cure: a non-diet soda and curly fries.