Good morning dolls! Welcome to today's edition of Style Obsession. I'm Sarah from
20somethingcupcakes
- and today we'll be discussing one of my all-time favorite things:
summertime
. There's something about this season that's so relaxed and fun; in my mind, it's a season meant for lounging your days away on a beach and sipping afternoon cocktails into the sunset. So when the lovely Miss Jessica asked us to consider what our five summer essentials would be, I thought about it long and hard - and I came to the conclusion that these five items could safely navigate me through this entire easy, breezy, and fabulous summer.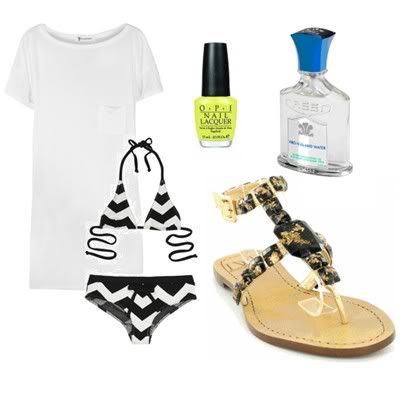 Forget food, water, and shelter - we're talking essentials of the bikini + t-shirt dress variety.
What sort of summer would this be without a chic new bikini? As a self-confessed neutral addict, I'm always partial to either a black or a white one - and
this little number
combines the best of both worlds. I'm loving the chevron zigzag pattern, and the
boy-brief bottoms
ensure a super-cute fit.
Next on our list of must-have items is the perfect
white t-shirt dress
- which you can easily throw over your swimsuit, and get yourself from the sand to your breezy beachside dinner party in no time. And, of course - what I really love about a good t-shirt dress is the ability to dress it up for nighttime: just add some sky-high platforms and a statement necklace and you're out the door. Still, for your more casual affairs (read: just how I like to keep my summer days) you'll need the perfect pair of flats. I like anything with jewels, beading, or embellishment - and the metallic stones on this lovely pair of
gladiators by Diane von Furstenberg
definitely fit the bill.
Of course we'll need the perfect summer scent - and that's exactly what
Virgin Island Water
is. The top notes are coconut and lime, so it's definitely tropical and undeniably fruity, yet it still maintains that level of sophistication that goes hand in hand with anything Creed. Yes, it's expensive - but it stays on so well, and it smells
so
delicious - it's totally worth it. And you can't beat the fact that every time you wear it, you'll be instantly transported to the island of St. John. Yes, please.
I'd say we'd need a great lip gloss, but experience tells me that all those boating trips are better off without it; the wind + hair + sticky lip gloss thing rarely works out. Instead, let's add a pop of color where it counts - our nails. This color is not for the faint of heart, I know. But, hey - if you can't have fun with your nail polish now, when will you? I love anything that's bold and unexpected - and
this shade of chartreuse
has been catching my eye all season long.
What do you think, lovelies? Would you happily waste your summer days away with these five items? Or is there something you simply
must
have that I failed to mention?
Thank you, Sarah! Bright nails are definitely a summer must!