After collecting five pounds of seashells, enduring a wicked sunburn and taking 1,400 photos, we're finally back from our Californian vacation - with just a touch of jet lag as a souvenir! As you can imagine, there's far too much to share in just one post. Read on for part one of our coastal getaway.
We arrived in Los Angeles on June 24 - just in time for the evening rush hour traffic. I had no intention of driving in that mess and planned to add Nate as a second driver to the rental car agreement from Avis. That's when we hit our first vacation snag. Avis requires a second driver to show a driver's license
and
a credit card (even though the car was already paid for on my credit card). Nate only has a
debit
card. While his debit card could be processed as a Visa, Avis refused to accept it.
Their policy made no sense, especially since Nate could have purchased the rental on his debit card online before arriving and then seamlessly put me on as a second driver when we arrived in L.A. I called the less-than-helpful customer service number when I got to the hotel. The representative agreed that the policy was "strange," but wasn't able to do anything about it. She suggested that we visit another Avis location in person to see what they could do - too bad the location she directed us to didn't exist. Then, we reviewed the papers Avis gave us with our rental agreement, which listed additional offices in the L.A. area, including an office in Glendora. Nope, that office no longer existed either. Thanks for nothing, Avis. I relinquished myself to the fact that I'd be the primary driver for our getaway, but it wasn't the low-stress vacation I was expecting.
We were in Glendora for the first four days of our vacation for a friend's wedding. We stayed at the Garden Inn and Suites on Route 66, which was deceivingly cute on the outside. At $80 a night, we definitely overpaid for the sketchy room with a mirror that spanned almost an entire wall. Classy.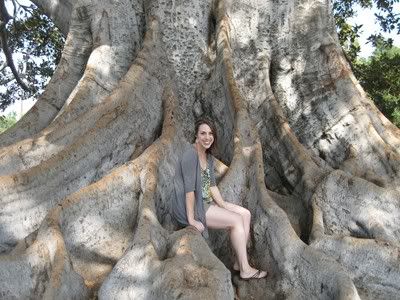 One of Glendora's gems is the tree at the appropriately named "Big Tree Park." We stumbled across it one morning after a wrong turn in search of Starbucks. The fig tree was planted in the late 1880s and has the most amazing root system.
Nate was standing up in the wedding, so he had groomsman's duties to attend to - including a day at Newport Beach with the groom.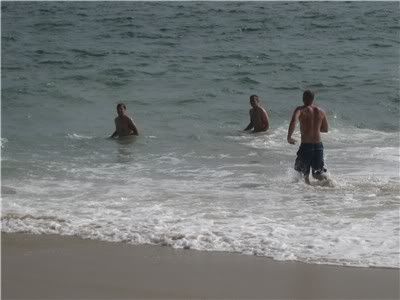 The guys spent hours tumbling in the waves.
I tagged along to bake in the sun, which I took a bit too literally and wound up with the worst sunburn I've ever had!
I ventured into the ocean for a little while, mostly because I spotted a gorgeous shell near the water's edge. A wave knocked me over shortly after.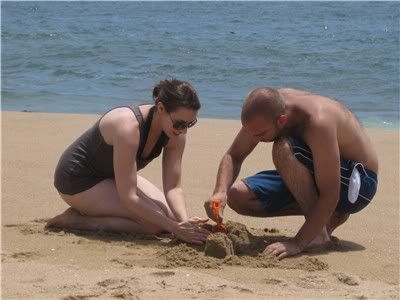 Building a sandcastle with Nate was worth the sun damage.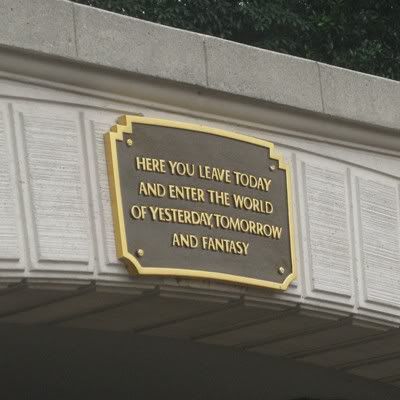 After the wedding festivities wrapped up, we were finally free of all obligation. And is there a better place to celebrate childlike freedom than Disneyland?
We spent a few minutes mapping our strategy to maximize our Disneyland adventure.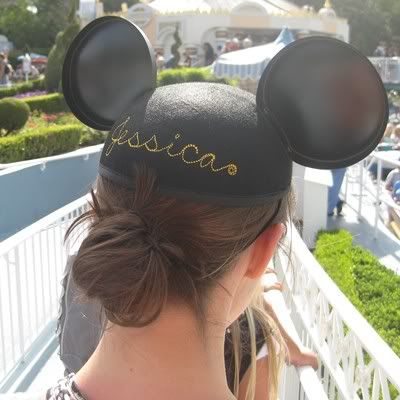 I could barely wait to purchase an obligatory pair of Mickey ears. The best part of the Disney experience was enjoying the attractions I vaguely remember riding nearly two decades ago. I'm still a fan of "It's a Small World," even if Nate would rather jump ship.
Check back tomorrow for part two of our Californian adventure, including sand dunes, a giant rock and fat squirrels.