Earlier this week, my inner fashionista squealed with delight as I paid for my first leopard-print item: a gauzy blouse from H&M - sightly sheer, slouchy in all the right spots (pun fully intended), and treads dangerously close to being a bit
too much
. It's particularly irresistible paired with minuscule khaki shorts and thick gold cuffs adorning each wrist. I'd like to call it "safari glam."*
It seems my animalistic instincts were spot on. Leopard print litters the August issue's pre-fall shopping guides of
Harper's Bazaar
. And I'm more than happy to indulge. As Sarah promised on Twitter (
@ClassyFabSarah
), the first leopard-print piece won't be the last.
My advice: bring a discerning eye to inexpensive leopard items. Many verge on looking a little too, well,
cheap
when compared to pricier alternatives.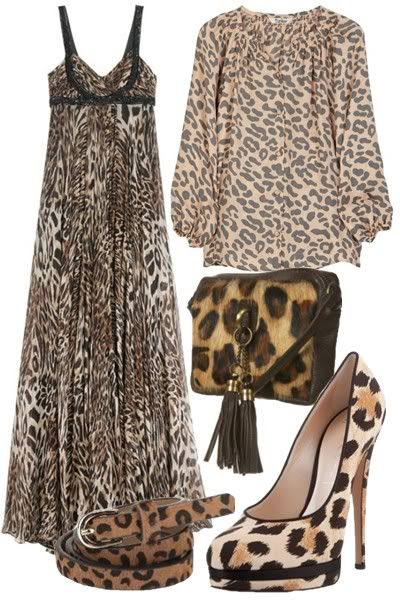 (pictured clockwise, starting from upper left)
Marchesa Notte,
Leopard Silk Gown
, $1,212.91
(on sale)
Tucker,
Leopard-Print Silk Blouse
, $280
Topshop,
Leopard Tassel Cross Body Bag
, $60
Casadei,
Leopard-Print Satin Court Shoes, $296

(on sale)
Deena & Ozzy,
Pony Belt
, $20

*Don't worry, ladies! I'll post a photo of the H&M blouse soon!