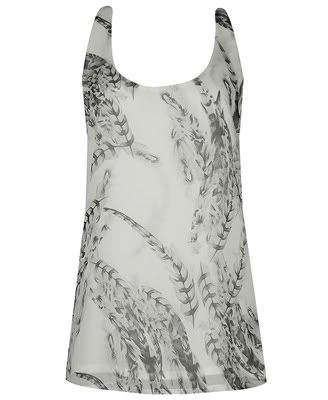 Beautiful is a word I've never used to describe a Forever21 item. Cute? Sure. Fun? Absolutely. Sexy? Sometimes. Beautiful? Never.
Until today. This afternoon, I purchased the chiffon
Quail Feather Print Tank from Forever21 ($15.80)
. It feels weightless on and it's surprisingly versatile. I've already tried it on tucked into a pencil skirt, layered over a little black dress, sloppily half-tucked into a pair of jeans with a boyfriend cardigan over it. I've tried it with rhinestone bracelets, statement earrings and layered chain necklaces. All good.
It is slightly sheer, but nothing a flesh-tone bra can't fix. And if you have the opportunity to shop in person, I recommend doing so - the shoulder seams on some looked like they were ready to pull apart at any given moment.