When I first met my boyfriend nearly three years ago, he peeked inside my color-coded closet and scoffed at the rows of black, brown and gray garments. I've consciously added more hues over the years to appease him (and to prove to myself that I'm not as depressive as my closet indicated). Now he swears that he brought color to my life.
Groan.
Either way, I haven't given up my soft spot for shades of charcoal, asphalt and smokey gray.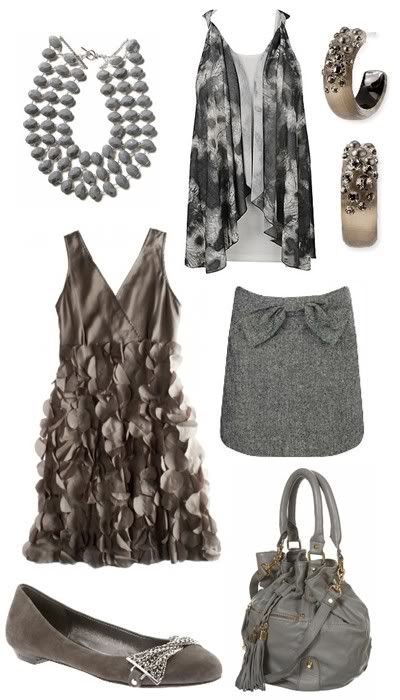 (pictured clockwise, starting with upper left)
Banana Republic,
Faceted Collar Necklace, $49.99 (sale!)
Forever21,
Vested Sublimation Tank, $19.80
Alexis Bittar,
Diamond Dust Tiny Hoop Earrings, $125
Forever21,
Tweed Mini Skirt
, $17.80
Topshop,
Leather Duffle Cross Body Bag
, $110
Banana Republic,
Portia Chained Flat, $98
Chan Luu,
Circle Dress
, $325
I ordered the Banana Republic flats late last week. Hopefully they find their way home soon!