I rarely stumble across items that are similar enough to warrant a "Save or Splurge" post, but this morning's e-browsing* inspired one.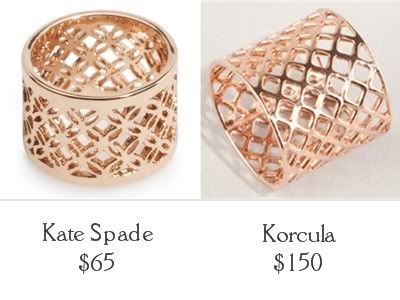 I'm normally a proponent of large cocktail rings that make a statement. But I'm tempted to go a more subtle route with one of these latticework rings. The
Kate Spade Deco Lace Ring
on the left is a little more intricate, made from base metal plated in rose gold, and comes in sizes 6, 7 and 8. The
Korcula Laura Ring
looks more substantial, comes in either rose or yellow gold, and is available in sizes 4 through 9.
Personally, I'm leaning toward the Korcula version. I like that it's not mass marketed and it's from an independent designer - it makes it feel more special. Which one do you prefer?
*E-Browsing: (verb) to leisurely shop online without the intent to buy. Example: I try to abide by the rule to shop often, but buy rarely - leading to a lot of e-browsing.