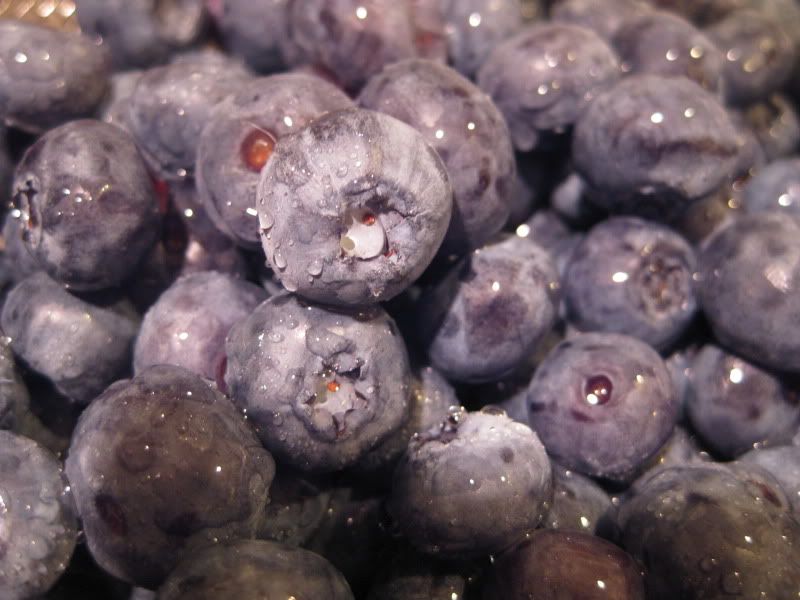 Few things are as quintessentially summer as buckets full of berries - and this weekend I dumped piles of blueberries (5 cups to be exact) into what has now become my favorite summer dessert: a Blueberry Tart.
My mom gushed about the recipe she found in
Woman's Day
for no less than 20 minutes on the phone last weekend - and a few days later, I found the recipe waiting in my mailbox with a note saying, "If you find a good sale on blueberries, you should try this."
Well, I didn't find blueberries on sale. But after such rave reviews from my mom, I was game for dropping my hard-earned cash on
full-price
berries.
And you know what? She was right. But it didn't get such verbal accolades from my boyfriend and me - just the scrape of forks against the china, moans of delight and clutching our too-full bellies later.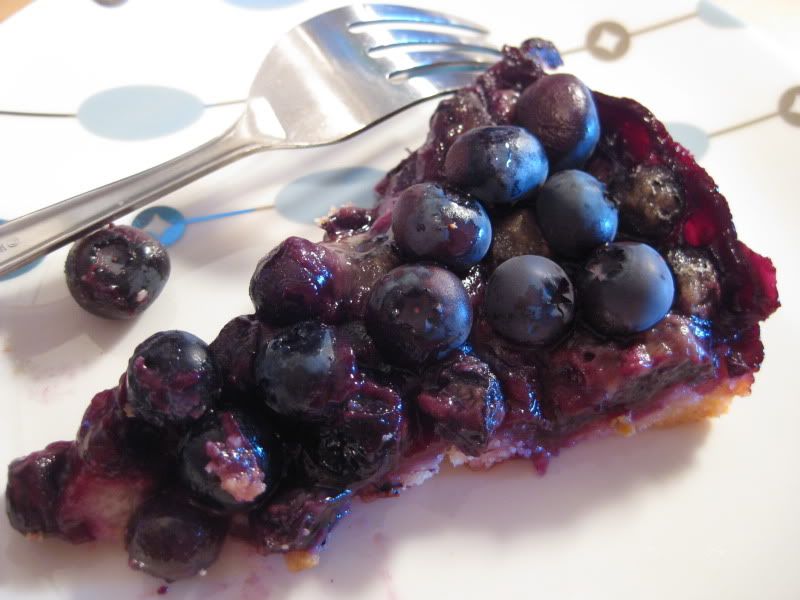 Blueberry Tart
(serves 12 - or just one blueberry-loving couple)
Ingredients
1 cup plus 2 tbsp all-purpose flour
2/3 cup plus 2 tbsp granulated sugar
1/2 tsp salt
1 stick (1/2 cup) unsalted butter, cut up
1 tbsp white vinegar
5 cups blueberries
1/4 tsp ground cinnamon
1/2 tsp almond extract
(I used vanilla extract instead.)
confectioners' sugar
Instructions
Heat oven to 375 degrees Fahrenheit. Coat a 9-inch square or round tart pan with a removable bottom with nonstick spray.

(If you don't have a pan with a removable bottom, don't worry. The tart is easy to remove.)

Pulse 1 cup flour, 2 tbsp sugar and the salt in food processor until blended. Add butter; pulse just until coarse crumbs form. Sprinkle with vinegar; pulse just until blended. Turn out dough and bring together with fingers. (I didn't use a food processor; just a fork to blend - much like making the crust for a pan of lemon bars.)

Press dough into bottom of tart pan. Top with 3 cups of berries. Mix remaining 2 tbsp flour, 2/3 cup sugar and cinnamon in medium bowl. Evenly sprinkle over berries; drizzle with almond extract.
Bake tart 50 to 60 minutes until bubbly. Remove from oven and top with remaining 2 cups of berries. Let cool in pan on wire rack. Sprinkle with confectioners' sugar. Serve warm or at room temperature.

Per serving: 200 cal, 2 g pro, 32 g car, 2 g fiber, 8 g fat (5 g sat fat), 20 mg chol, 99 mg sod