The men on my Christmas list just aren't fashionable - they're Wisconsin men who spend their weekends in the woods or tinkering with tools. Here are some gift ideas that they would appreciate this holiday season.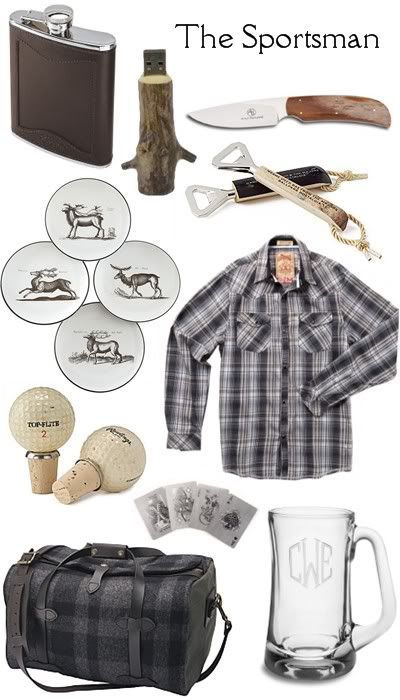 (pictured clockwise, starting from upper left)
Filson,
Bridle Leather & Stainless Steel Hip Flask
, $67.50
Oooms,
Wooden USB Stick
, $79.80
(on sale)
Arno Bernard,
Knife with a Giraffe Bone Handle
, $152.07*
Uncommon Goods,
Baseball Bat Bottle Opener
, $75
Sovereign Code,
Kingsley Western Plaid Shirt
, $22.49
(on sale)
Williams Sonoma,
Monogrammed Beer Mug
, $59/set of four
Filson,
Small Wool Duffle Bag
, $250
eCrater,
Silver Playing Cards
, $8.88
Uncommon Goods,
Golf Ball Bottle Stopper
, $25
Wisteria,
Black Forest Reindeer Plates
, $14.70
(on sale)
*I purchased the Arno Bernard knife for my boyfriend last year - it was a hit. He was like a little boy, carrying around his new toy for days. This year I have a fossilized dinosaur bone knife under the Christmas tree for him.