The lovely Miss B over at
Champagne & Macarons
passed the Stylish Blogger Award to me with the caveat that I share 7 things about myself.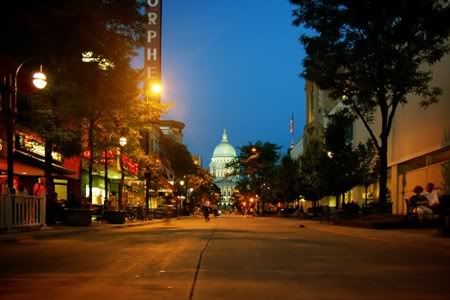 I attended the University of Wisconsin - Madison and graduated with a degree in English and in Journalism with an emphasis on advertising and public relations. I stayed in Madison post-graduation and each winter I wonder why I torture myself with a snow-covered life here. A sunnier location is tempting, but I love Madison summers too much to leave - especially outdoor dinners on State Street (above). The people watching is ideal.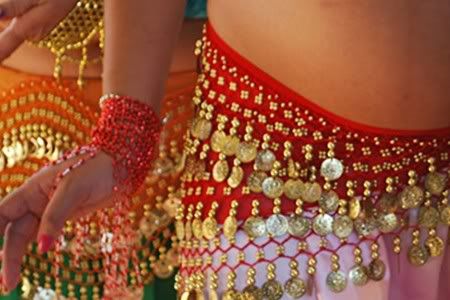 I took belly dancing lessons and plan to enroll in another class. It's an incredible workout that helps tone isolated muscles - during just a six week course, I lost an inch from my waist. And, yes, I can undulate my stomach.
I don't play favorites. I don't have a favorite song. No favorite movie. My preferred color changes daily. And I certainly can't pick a favorite ice cream flavor. Variety is the spice of life, why limit yourself?
My day job has gotten infinitely cooler this year. I work at a local business magazine. I started four years ago doing sales support, right out of college. Since then, I've held a handful of positions with the company, including maintaining our website
and
managing events (my true love). We've finally hired someone to take over the Web so I can transition to events full time - and I couldn't be more excited, especially since I see event management as my career path. However, I'm pulling for a new title: Event Architect and/or Social Director.
I collect seashells. The collection is separated by location and stored in a variety of clear glass vases and apothecary jars. Each jar is a different beach and a different memory - and it's interesting to see how shells and sand differ throughout the world. I'm quite fond of the shells collected on The Netherlands' North Sea coast. These are kept in a "kleintje" (translation: itty bitty) Heineken glass.
I'm hopeless with directions. Do you remember the days before the GPS? I was the one taping Mapquest directions to my steering wheel to reference during the drive. And don't even talk to me about the days before Mapquest ... I would have never found my way home. Thank goodness for Garmin. (But I
can
use a compass.)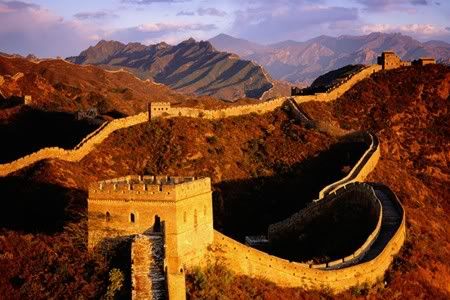 I briefly mentioned this before, but there's a possibility that I'll visit China this year. At work, we've been working on an Executive Summit to Beijing and Tianjin, China. This is an opportunity for companies to meet Chinese executives, government leaders and embassy officials. As we've quickly learned, doing business in China is all about relationships - and we've been fortunate to make vital inroads. If we can sell 20 tickets at $5,400 (12 days, all inclusive), I get to go along. Perk of being the, ahem, Event Architect. Besides, I feel like the trip is part of my divine plan - when I was a wee one, my great aunt went to China and returned with a pair of embroidered, red silk baby booties for me. It all goes back to fashion, doesn't it?
Stylish Blogger Award Rules
1. Thank and link back to the person whom awarded you.
2. Share seven things about yourself.
3. Award 10 great bloggers that you've recently discovered.
I'm passing along the karma points to the first 10 people who commented on
yesterday's blog post
, the ladies behind these blogs: