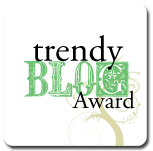 On Thursday, Erin at Pursuit of
Love, Laughter & Travels
passed along a blog award to me - thank you!
The rules:
1. Post about your award.
2. Pass it along to 10 other trendy bloggers.
3. Link to the
Trendy Blog Button
.
I'm going to cheat a little bit with the rules. I'd like to tag anyone who has started following
Style Obsession
this month! There are about 10 of you - you know who you are! Thanks for the support! And thanks again, Erin, for passing along the award to me!