I don't know what it is about the geometric perfection of chevron, but I just can't get over zigzag stripes. All willpower was officially abandoned when I purchased
this Diane von Furstenberg blouse
mere minutes ago. While I wait for it to arrive, I'll continue daydreaming about other pieces adorned with jagged lines.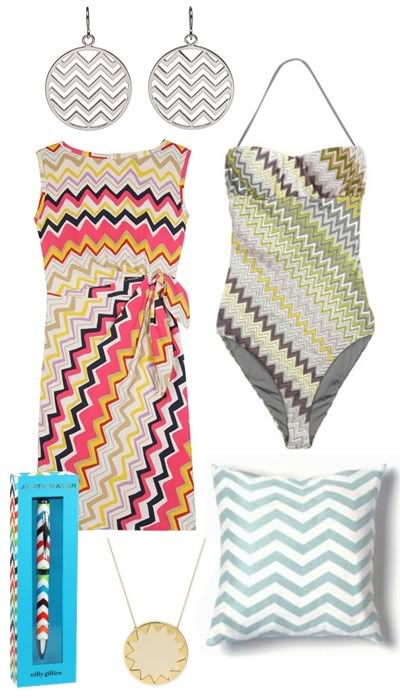 (pictured clockwise, starting from upper left)
Jess LC,
Division Chevron Earrings
, $74*
Missoni,
Folgaria Woven Swimsuit
, $229.50

Twinkle Living,
Zigzag Throw Pillow
, $50
House of Harlow 1960,
Sunburst Necklace
, $65
Jonathan Adler,
Chevron Pen
, $18.95
Diane von Furstenberg,
Della Silk Dress
, $443.33
*I'm positive these are snuggled in the wrapped box Nate's been taunting me with. Only 12 more days until my birthday and I can finally wear them!