Thank you all so much for your well wishes
yesterday
. I think those healthy vibes helped alleviate some of my flu symptoms. I'm feeling much better today with only muscle aches and exhaustion to reckon with. And a slight recovery couldn't have come at a better time. I was an absolute mess the past few days becoming teary-eyed at "A Baby Story"
on TLC and exhibiting questionable driving skills en route to Walgreens (and disregarding the parking stall lines - oops).
I need to be in full-recovery mode for my cousin's wedding reception tomorrow evening where I plan to debut
the pink party frock from Banana Republic
. However, there's one downside to dressing up for the event: it makes me yearn for the next occasion! Here are some of my top picks for a special night out.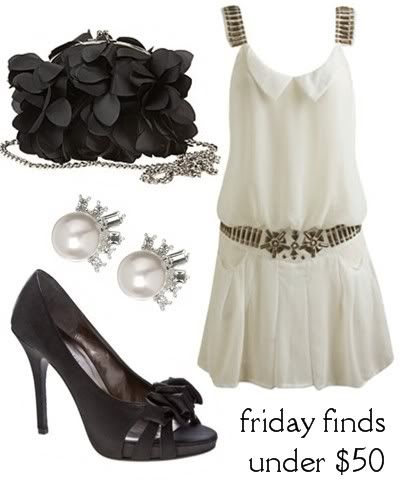 (pictured clockwise, starting from upper left)
Nine West,
Wenda Feather Clutch
, $39.99
Arden B.,
Embellished Blousant Tunic, $20
Kelly & Katie,
Elle Satin Platform Pump
, $49.95
Banana Republic,
Audrey Stud, $25