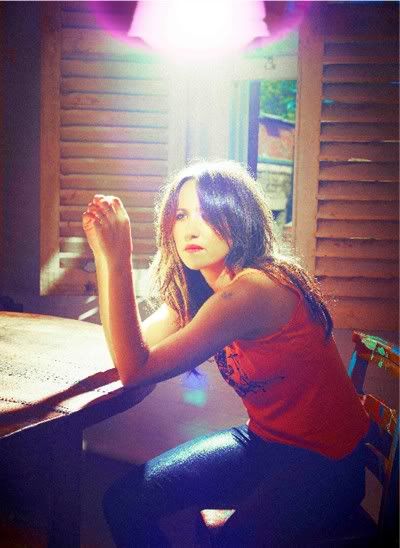 It's been years since I tore into the jewel case of a CD, flopped on my bed and carefully listened to each track over-and-over, pondering the lyrics. When
One2One Network
offered the opportunity to review KT Tunstall's new album,
Tiger Suit
, the 14-year-old in me jumped at the chance.
Tunstall is best known for hits like "Black Horse and the Cherry Tree" and "Suddenly I See" (the title track of
The Devil Wears Prada
) from her debut album
Eye to the Telescope
. In
Tiger Suit,
her third album, she unveils a new musical twist, dubbed "nature techno." Mixing techno with folk-rock sounds like a disaster, doesn't it?
It isn't.
Tunstall is successful at this unexpected marriage of chords, creating a melody laden with broody lyrics, a devil-may-care attitude, and an undeniable spirit. Her first track, "Uummannaq Song," is quite remarkable, surprising listeners with world-music chants woven with her guitar's twang. Tunstall falters a bit with "Glamour Puss," which seems like an out-of-place attempt to gain traction on the pop charts. The song is a satire, much like Pink's "Stupid Girls," but feels too contrived. But she quickly redeems herself, proving her vocal talent, belting out on songs like "Madame Trudeaux" and "Push that Knot Away."
Have you listened to a phenomenal album lately? I'm itching for some new tunes.
FTC-Required Disclaimer:
One2One Network provided a copy of the
KT Tunstall's

Tiger Suit
free of charge for editorial review. No compensation was given for this review, although my name was entered to win a gift card. (Which, you know, results in goodies for y'all later.) All opinions stated within are my own and are not influenced in any way.