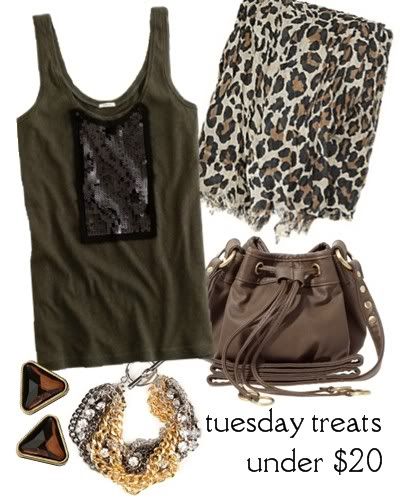 (pictured clockwise, starting from upper left)
J.Crew,
Sequin-Strip Tank
, $19.99
Aldo,
Leopard-Print Scarf
, $18
ASOS,
Ring Detail Across Body Duffle Bag
, $18.54
Full Tilt, Multi Chain Bracelet
, $6.99
Urban Outfitters,
Pyramid Stone Post Earrings
, $14
---
Blog Award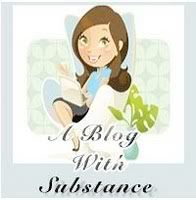 It was such a sweet surprise to see that Amy of
Amy Shops the Web
tagged me for the
A Blog with Substance
award
yesterday
. I know each of us have made countless friends through our blogs - and Amy is one of the most genuine people I've virtually met! Her blog has become a daily must-read that features the best sartorial finds from across the Web, saving you the time of logging in to those sample sale sites.
Here are the award rules:
1. Thank the person who gave it to me.
Like Amy specified on her blog, this step is definitely not necessary. That said ... thanks, Amy!
2. Sum up my blogging philosophy, motivation, and experience using five words.
Always seeking beautiful sartorial finds!
3. Pass it on to 5 other blogs that I feel have real substance.
Choosing only five blogs is more difficult than I could have possibly imagined
(I hate excluding people!)
, but here are a few that I've recently added to my daily reads: