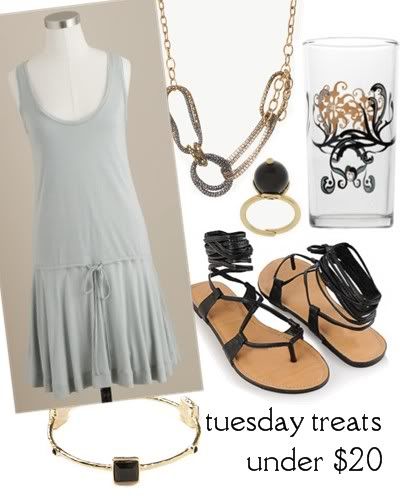 (pictured clockwise, starting from upper left)
J.Crew,
Drawstring Tank Dress
, $19.99
(on sale)
Asos,
Designsix Abbott Necklace
, $16.85
(on sale)
Fishs Eddy,
Pinwheel Italian Wine Glass
, $5.50
Asos,
Pilgrim Ball Ring
, $13.48
(on sale)
Forever21,
Wrap Me Up Sandals, $14.80
Lori's Shoes,
Square Stone Bangle
, $12
Inspired by...
Remember
last week's "Tuesday Treats" feature
? Lydia from
Chic on the Cheap
found inspiration in the ruffled tank and snakeskin bag,
creating her own "inspired by" look
. She even stayed true to the theme by choosing pieces for under $20!
If you've been inspired by any Style Obsession post, I'd love to hear from you!