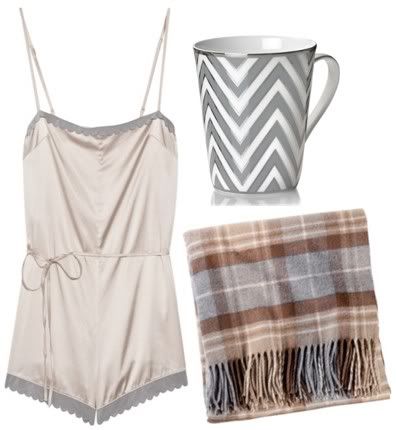 When I started this blog, I never expected it to be a source of support in a desperate time of need. Thank you. I'm grateful for the sweet comments, Tweets and e-mails over the past week - I can't even begin to tell you how much each one means to me. I promise to respond to everyone, but it is taking longer than expected. I can only get through one or two a day without breaking down.
That's precisely what's hard about this situation: I never know when I'm going to be left sobbing. I'll brush my teeth and let my mind wander. The next thing I know, my face is twisted in pain and tears are streaming down my cheeks.
And, let me tell you, it's been hard to keep myself distracted every minute of every day. I spent most of the weekend curled up in
pajamas
, clutching a cozy
throw
and sipping
coffee
. I've made it through countless crossword puzzles, read two books and learned the lyrics to a new C.D. When I ventured out, I wandered aimlessly throughout stores and purchased a
bracelet
I didn't need. I haven't been able to eat and have lost five pounds in the past week - not exactly the weight-loss kickoff I expected.
But, I am doing better. I just never thought I'd be this excited for the dawn of another work week and the salvation it brings.