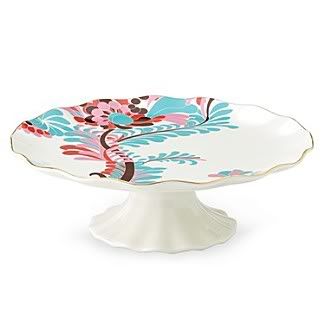 Few things scare me as much as a beloved china pattern suddenly being discontinued.
I had lusted for Kate Spade's Gwinnett Lane cake plate for almost a year before I learned Lenox filed for Chapter 11. That was more than enough motivation for me to place an order early this spring. Thinking it would arrive well before my May birthday, I eagerly pressed "submit order" to learn it was back ordered and would ship "on or before November 5, 2009." I sure hoped so. Thankfully it arrived late last week.
It's gorgeous.
I immediately calculated the cost of obtaining the full set: eight place settings, salt and pepper shakers, pitcher, creamer, sugar jar...everything. In short, it was more than I could possibly spend at once. I consoled myself believing I would have at least a few years to slowly build my collection.
Maybe not.
I browsed
Bloomingdales.com
tonight and found the Gwinnett Lane collection banished to the sale section at 50% off. My dreams of serving canapes artfully arranged on the two-tiered serving stand have been unceremoniously shattered.
However, I did settle on eight accent plates - and a price adjustment for the tardy cake plate.
Update:

The Gwinnett Lane collection is still full price at Macy's. I sent an e-mail to Lenox to see what the status is on the pattern. The company has no plans to discontinue to it yet, but suggested contacting Kate Spade to determine the plans for the pattern.

Crisis averted. For now.