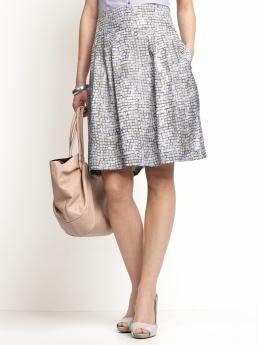 I went through six wardrobe changes before work this morning, vetoing each outfit because it wasn't just quite "right." As frustrating as it was, it forced me to identify my closet's missing link for spring.
Full, silky skirts.
Granted, I may just be aching for the return of
Mad Men
, but a full skirt is office- and weekend-appropriate depending on what it's paired with. And it'll easily transition into summer when it's time for the lightweight wool pencil skirts to retire to the dark recesses of the closet.
I'm itching for Banana Republic's
Silk Square-Print Pleated Skirt ($69)
. Its soft gray color palate is definitely on-trend for SS09, but the pockets are really what sold me on it.